What is Reseller hosting? why its best for 2021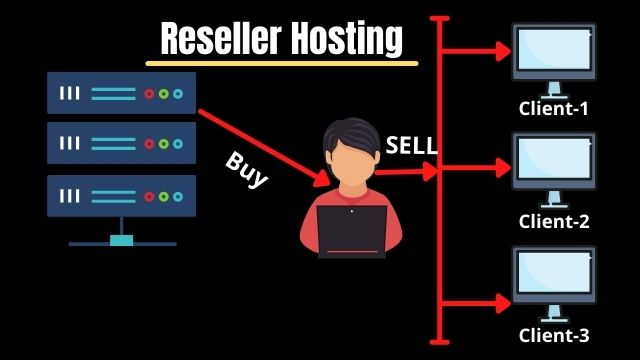 Hello guys! You are here to know What is Reseller hosting? am I right? Let's move to know what is Reseller hosting and how it works?
As you know there are different types of hostings available for hosting our website, such as shared hosting, VPS hosting, dedicated hosting, etc.
Similarly, Reseller hosting is a type of hosting that also helps to host our websites.
Topic to be Covered
how does Reseller hosting work?
What is Reseller Hosting? best for 2021?
Reseller hosting is a type of hosting where we can host our websites. But reseller hosting is slightly different from all other types of hosting.
Let's understand in detail, What is Reseller hosting? and how Reseller hosting is different from others.
As we know To host our website, we need to get hosting which we buy from a hosting provider.
When buying hosting, we have the option that which hosting should we buy?
If you are a beginner then you should go with shared hosting as it is cheaper than others.
If there is more traffic on our website then we should prefer VPS or dedicated hosting.
To buy all this hosting, we have to pay from our pocket.
But if we have a little technical knowledge of web designing, web development then you can earn money by purchasing Reseller hosting.
Before knowing Reseller hosting, let's find out what is hosting? and what are their types?
Also Read
# 6 ultimate way to get free backlinks
#1000 free backlinks: Secret revealed
What is hosting?
Hosting is something that allocates a place in the web server for websites. The hosting company provides this job for our websites.
These companies allocate our websites in the web server for which they charge us some money. let's understand it through an example.
When we do some work on our computer or laptop, we save the files on the computer.
The files may be in the form of photos or videos and songs, that we save all on our computer.
Do you know where our files and data are saved? Yes, in our computer memory, or hard disk.
Whenever we want to see the files or photos, we can easily see them from the hard disk with the click of a mouse.
In the same way, all our files, photos, videos of our websites are stored inside a hard disk called a web server.
when a user wants to access our website then he will search our website in the browser by entering the domain name of our website.
after clicking the search button he will able to access our website from the server.
Also Read
#Increase website speed in 2021?
#How to start a WordPress blog?
# Earn money online in India 2021?
Types of hosting
Let's see the different types of Webhosting and which Webhosting is better for our sites or blog.
Every hosting has its pros and cons. If we know this in detail, then it will be easy for us to choose the right Web hosting for our blog.
Shared Hosting
VPS hosting
Dedicated hosting
Cloud hosting
Reseller hosting
Which reseller hosting is best?
2. Blue host
3. Site ground
4. Inmotion
5. Namecheap
6. Resellerclub
Definition of Reseller Hosting
In Reseller hosting where the registered person or the account holder has the power to use his allocated server (hard drive space, bandwidth, RAM, CPU) to host other websites.
That means here the registered person acts like a hosting provider who sells hosting to his clients on behalf of the parent company.
Here the registered person or reseller purchase the hosting in a bulk from a hosting provider then sells them to his clients or customer and earn a profit.
This type of hosting is not for everyone. If you are a beginner and you want to have a website, then reseller hosting is not for you.
Let's understand this in a simple way, that what is reseller hosting? and how does it work?
If we want to buy a TV then what will we do? do we go to the company or manufacturer directly to purchase the TV? No, we usually go to the nearby retailer shop and from there we buy the TV.
That retailer delivers and installs the TV in our house. If there is any technical issue, then the retailer corrects it.
Here the retailer acts as a middle man between the manufacturer and the customer.
How does Reseller hosting work?
Let's learn how does this web hosting work? It's simple.
You just take the product and their services from a company and then put your brand name, promote and sell them to earn a profit.
for starting a reseller hosting provider, you have to register your own website and host it on the parent company's server.
Suppose XYZ.com is your website and you have hosted it on Hostgator.com. here Hostgator is the parent company where you have bought hostings for your website.
Now you bought a dedicated server for your website xyz.com.now you have full authority over that dedicated server where your website is being hosted.
Here you can share your server space, bandwidth, and other services with your clients or customer.
To grow your business, you have to keep your clients happy through your service.
If any of the clients have any problem, then you and your parent company can rectify it as soon as possible.
For this, you have to keep a lot of things in mind while choosing a parent company.
The type of hosting you buy
Bandwidth
Storage space
Server uptime(it must be 99.9%)
whether they have security or malware protection or not
Storage must be scalable
Also keep in mind the features like backup recovery, cPannel, Cloudflare, and WHM
Conclusion
Here we conclude this article. Hope you guys enjoy it and gain some knowledge about reseller hosting. If you liked this post then do share it with your friends and on your social media account.