Jio 5g smart phone coming to Indian market 2021
It would have been known from the topic, which topic are we going to talk about today. Yes, you heard it right now today we are going to talk about the Jio 5g smart phone  and Jio 4g smart phone which will be available in the Indian market in the next year. You must have these questions in your mind about what will happen to it.
So my answer is that this will reduce the dominance of Chinese phones from the Indian market. If Competition will increases then users will get the benefit. We can get a good, well-featured android phone at an affordable price.
This article will tell you how long Jio will launch Jio 5g smart phone in the Indian market and what will be its price. To understand this, read this article till the end.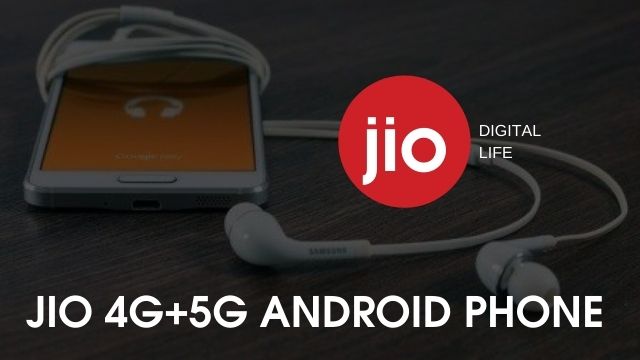 Jio 5g phone in india
Talk about the Indian market and Indian mobile users, we all depended on Chinese phones for cheap and high features. Indian smartphones were also available in the market from time to time, such as Lava and Micromax. But all these domestic phones were not able to compete with Chinese phones. Because Chinese phones were cheap and with useful features, that is why Indian smartphones started coming out slowly from this race.
why Chinese phones ruled the world
Right now, we don't have any domestic smartphone available in the Indian market. This is why Indian users mostly depended on Chinese phones. If we want to buy an Android phone in the range of 10 to 15 thousand, our first preference is a Chinese Smartphone, such as Real me, MI, Vivo, and Oppo. These phones are in the range of 10 to 15 thousand, and their features are also outstanding. These Chinese phones are cheap and have advanced features as compared to other Japanese phones like Samsung. Due to this, all these Chinese phone sales more in the Indian market than Japanese phones.
jio will launch its 4g and 5g smart featured phone
The biggest news is that very soon; we will end our dependency on Chinese phones. The Indian company is going to launch cheap and advanced feature domestic android phones in the market. So All these smartphones can be seen with both 4G and 5G features. None other than the Indian telecom giant Jio who gives this gift to you. Yes, you heard it well.
Jio 5g smart phone are coming very soon. Jio will launch its 4G and 5G smartphones in the Indian market. These smartphones will be much better than the price of these Chinese phones. And will be loaded with advanced features. Now the future of Chinese mobile phones will not be so easy in the coming times. Now Jio is going to give a tough competition to the Chinese phone in the smartphone market.
The Indian market for android phone
If we look at the market of smartphones in India, then 70% of the market is captured by Chinese android phones. And rest 30% has captured by other companies like Samsung, Apple, and Google. It has clearly understood that how Chinese company has ruled over the Indian Smartphone market. If you know in simple words, then suppose If 1000 mobiles are sold in a day, then it has 700 phones from a Chinese company and the rest 300 from other companies.
This happens because the Chinese company targets the affordable and mid-range segment and sends their phone into the market. And India is a big market for mid-range segment phones. Indian users get a good phone at a low price so that they can fulfill their needs. Because of this, Chinese phones became so much success in the Indian market. if Jio launches its most awaited Jio 5g smart phone in the market then users will take the benefits of market competition.
Future of Jio 5g smart phone in India
But in the future, the path of the Chinese phone is not going to be so easy. Because according to the source, Jio is going to launch 10 cores smartphones i.e Jio 5g smart phone and Jio 4g smartphone in the Indian market soon. And all these phones are going to be in the mid-range segment. These phones are going to be of low price and having useful features. Jio's phone will suppose to launch these phones in 2021. Jio has signed a deal of 34,000 cores with Google, in which Google has bought 7% of the Jio platform. On this, Jio had said that they would launch a cheap and good Android phone with Google, and this Android phone will be available to you very soon
Price of jio 5g smart phone
Now let's talk about what will be the market price of Jio 5g smart phone and Jio 4g smartphones. Jio had earlier gave the cheap internet service and cheap featured phone as well. From this, it is known that Jio will also launch a Jio mid-range segment phone, which will be priced between Rs 3000 and Rs5000. In today's time, 35 to 40 million people are still using the 2G phone. It will be an ample opportunity if Jio will target this midrange segment and send its smartphone to them.
Right now, the anti-Chinese sentiment is going on in India. at the same time, if an Indian company brings a good and cheap phone into the market, then hopefully, it can capture a large market.
What benefits will the users get?
The competition in the market will benefit to users. If the Indian smartphone i.e Jio 5g smart phone is available in the market at a cheap rate, then the Chinese will also send their low-range and high featured phone to the market. Here we will have many options to buy which phone. We will be able to get a well-featured phone at affordable prices. Jio is recently working with Google on 5G. It is possible that in the coming time, Jio will send its 5G phone in the market for the price of Rs10000.
Conclusion
Now it remains to be seen whether Jio 5g smart phone will fulfill users' demand or not. Will their features compete with the Chinese phone or not. But it is so sure that the smartphone revolution is going to come to India due to Jio.