How to Start a WordPress Blog: Best blogging tips
How to Start a WordPress Blog: (Master The Art Of Blogging With These unconventional Tips)
Start a WordPress Blog: 
Here Queryexpress share with you some simple and easy tips on how to start a WordPress blog. is it exciting? Yes, of course, it is. But in my case, it was super exciting for me to start my blog.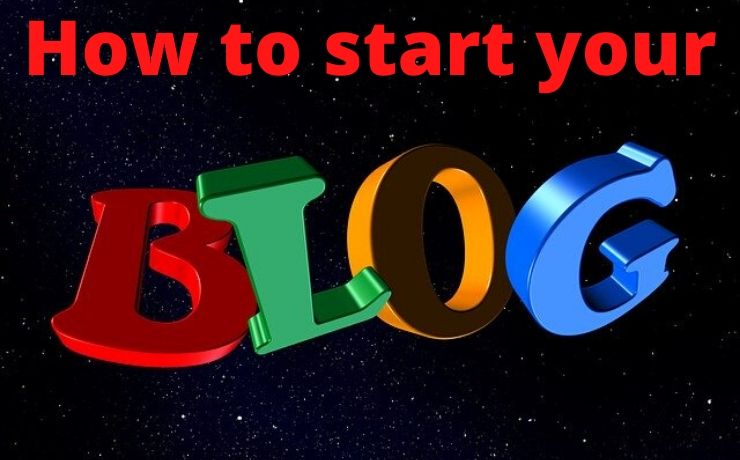 At first, I visited many sites and also watched Youtube videos to know how to start a WordPress blog or want to know what exactly a blog means? I tried to gain some knowledge through these videos and web articles to create my blog.but during that time I was so confused about how to do all these things. The information I got from the internet was not so helpful because those people understood the whole technically. And I did not understand all this.
As I was a student of mechanical engineering and did not know much about computers except ms word and ms excel that's all. That is why I was looking for someone to explain all this to me in an easy way. Finally, I managed to find out how to start a WordPress blog. My all efforts finally came to an end and I made my blog and wrote three to four posts also. Right now I know that what I was watching in the Youtube video and what I read on the internet about how to start a blog is also so important.
Click here–(how to make money with PayTM)
How to start a WordPress blog within half an hour
Right now we will concentrate on how to make a blog easily so that the beginners like you can easily understand. It took me a month to build my blog but I am sure if you go through my article you will build your blog within half an hour.
 Steps to create your Blog
1. Choose a Blog Topic
2.Choosing a blog name or domain name for your blog
3.Register your Domain name
4. Buy hosting for your domain
5.Choosing a Blogging Platform
6. Customize your blog. 
7. Write & publish your first Article/post. 
8. Promote your blog. 
1. Choose a Blog Topic
Many of you have a clear vision of what you want to blog about. and also I am sure most of you don't know what to choose.which topic you will write in your blog.when it comes to decide to choose your blog topic just think about yourself and choose that what makes you excited. Like something which you like and write about. still, you confused then I am giving you some clue which will help you to pick your topic.
Click here –(how to earn money online for beginners)
Choose a topic from the table given below
| | | | | | |
| --- | --- | --- | --- | --- | --- |
| 1 |  Movie | 11 | Sports | 21 | Pet |
| 2 |  Movie review | 12 | software | 22 | Dog's breed |
| 3 |  Sports | 13 | celebrities | 23 | Cat |
| 4 |  Politics | 14 | Educational | 24 | Shopping |
| 5 |  Economics | 15 | Placement | 25 | Science |
| 6 |  Life experience | 16 | News | 26 | Engineering |
| 7 |  Holiday destination | 17 | Biography | 27 | Marketing |
| 8 |  Reviews of product | 18 | Health | 28 | History |
| 9 |  Electronics and gadgets | 19 | Yoga | 29 | Making money |
| 10 | Cooking/Recipies | 20 | Family | 30 | SEO |
You can choose any topic on your own. Do you know why I am giving focus on choosing the right topic for your blog? because You created a blog after doing a lot of work. And also wrote your article. If no one will read your article, then your work will be in vain. As much as people come to your webpage and read your post, then only you will get your income. Ultimately every blogger has a  Goal to make some money through blogging.
Click here– (best video editing software for youtube)
Popular Blogging categories
I know many of you have your own thinking of what you want to blog about. And also I know most of you don't know what to select for your blog. Here I am showing you which topics or categories people search on the Internet more. What I am going to show in the figure may vary in actual practice, but you will get an idea of which topic you have to choose.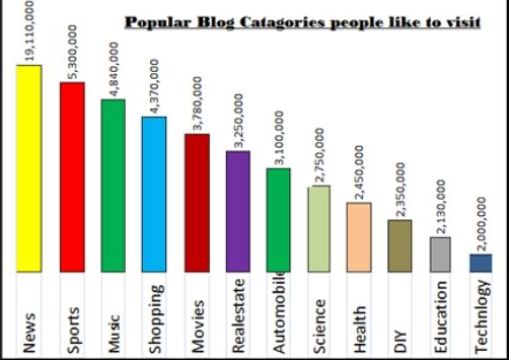 2.Choosing a blog name or domain name for your blog
Now its time to buy a domain name for your blog. I suggest choosing a domain name that describes what your blog is. Suppose you are going to write about health in your blog then your blog name supposed to be like health villa, health tips,etc.you can also choose a different name for your blog but my opinion is to go through a domain name which suits your blog.
Tips to follow when picking a domain name
1.You should use your name or select a specific topic for your domain name. as I said earlier just go with your topic.
2. Choose a domain name that should easy to type.dont use numbers and hyphens.
3. Try to choose the name that is easy to pronounce.
4. Make sure the length of your domain name should be short.
5. Don't use any brand name as your domain name. just like google.com,youtube.com like that.
Choosing a domain extension-
After choosing a perfect domain name for your blog.now its time to select a domain extension. The domain extension is something that is used after the domain name. for example, my blog name is queryexpress.com where query express is my domain name and .com is the domain extension.we have 486 different domain extensions to choose from. but the most popular is the ".com" extension.so try to go with the .com extension.if its not available then will proceed towards for .net,.org, and .in(if you belong to India).
3.Register your domain name
After choosing and finalizing your domain name with extension, then its time to register your domain name with a domain name registrar. Its nothing but a company that sells and registers the How to Start a WordPress Blog: (Master The Art Of Blogging With These unconventional Tips)domain name. nowadays there are lots of domain registrar available in the market such as Godaddy.com, hostinger.com, bluehost.com,etc.they will provide you with the domain name with an affordable price. if you take my suggestion, then you must go with Godaddy.com.
4. Buy Hosting for your domain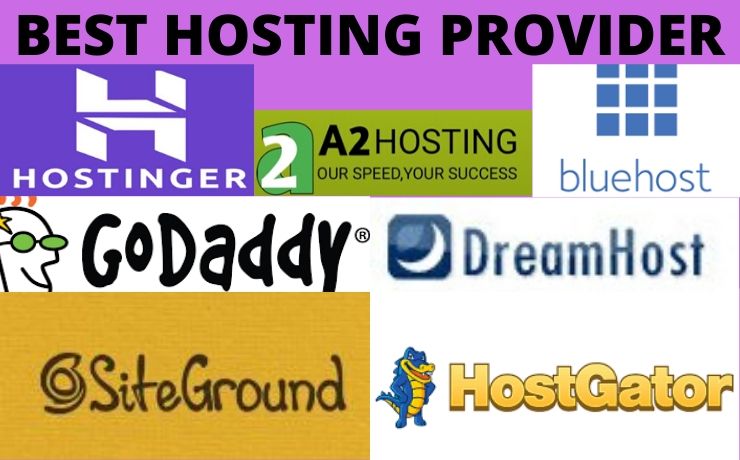 Before going to buy a web hosting, let's see what a Webhosting mean? Web Hosting is nothing but a computer where it stores our data like files, pictures, videos, etc in its server. the main function of hosting is to permit other people throughout the world to visit our blog. Because of this, our website can be accessed by others through the Internet.
There also lots of companies that offer the best and cheap hosting plan for your domain. you can visit these sites and choose according to your budget.if you take my suggestion then I will advise you, that as a beginner you will choose a starter plan then you can upgrade it according to your requirement.i am using hostinger.you may go with hostinger.com
Using a free hosting-
If you are not ready to purchase hosting then you can choose free hosting. There are many free hosting to give this facility, which will give you hosting for free. Along with giving it for free, it also has many drawbacks. They give restrictions on providing bandwidth, storage capacity, server speed, and uptimes. this restriction can make your site dull and unusable.some other drawbacks are as follows.
1. You don't have any control over the blog's content.
2. Your site may be shut down at any time without any reason.
3. The domain extension is long and difficult to remember. It won't be appealing.
4. You cant place ads on your blog. Therefore making money through free hosting is difficult.
5.Choosing a blogging platform
Now its time to choose your blogging platform.because you will never start your blog without a blogging platform or blogging software. for example, if you want to play football, you need a playground. In the same way, if you want to blog then you will need a blogging platform or blogging software.
In this case, also several blogging platforms are there to select—like google Blogger, Squarespace, Wix, Weebly, Joomla, Ghost.ifyou take my suggestion then I will recommend you to go with wordpress.because it is most popular and widely used software throughout the globe. Most importantly its flexible, free, userfriendly, and powerful software among all. It's a one-click installation process, therefore, I suggest you go with WordPress.
Hurray! Your website is ready.its so simple am I right? if I can create my blog then why not you?
6. Customize your blog. 
After installing WordPress, then its time for customizing your blog.for this you have to first download a theme according to your blog content. Themes control and manage your design which makes your blog looks attractive.WordPress provides you so many free to use theme.you can also go with the premium theme but there is no need to pay money for that.lets move to download a perfect theme for you.for doing this first you have to go to your dashboard by log in your blog. For login, you have to type your blog name in chrome browser like www.yourblogname.com/wp-admin/ then press enter. you will redirect to your dashboard. to download your theme you will click on the "Appearance" tab on the left menu of your dashboard, then select your theme.
Popular themes according to their performance 
| | | | |
| --- | --- | --- | --- |
| SL.NO | Themes | Load Time | Size |
| 1 | Arke | 0.957 s | 20 KB |
| 2 | GeneratePress | 1.967 s | 32 KB |
| 3 | Zakra | 1.181 s | 39 KB |
| 4 | Astra | 1.599 s | 46 KB |
| 5 | Twenty Ninteen | 1.376 s | 69 KB |
| 6 | Neve | 2.134 s | 80 KB |
| 7 | Bloggo | 1.500 s | 132 KB |
| 8 | Primer | 1.576 s | 143 KB |
| 9 | OceanWP | 1.886 s | 198 KB |
| 10 | Writee | 1.536 s | 205 KB |
Now you will find some default themes that are already installed on your blog.these themes are simple, good looking, and well-designed themes. if you want to go with these default theme then put your mouse pointer and click on "install" .after installation you just click on "activate" and your theme is ready.in this way you can change the design of your blog.
If you don't want to go with the default theme then you can search your theme in search bar.if you take my opinion then I will suggest going with the "Astra" theme.it's light(taking less space), high speed(Uptime), and most importantly a well-designed theme for your website.
Install plugins
Best plugins for WordPress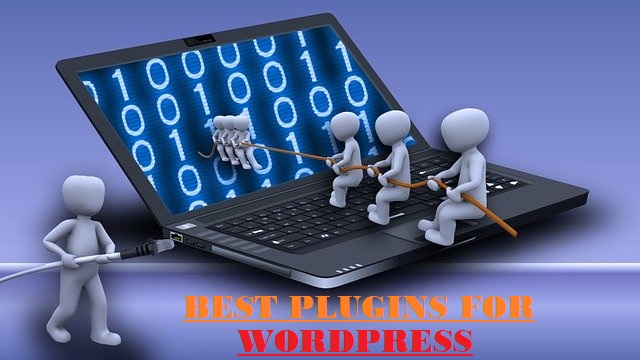 After installing your new theme on your blog, now its time to install some plugins which will give you some additional features to your blog. Let's find out what a plugin is all about?
A plugin is nothing but software written in the PHP programming language which contains some functions that can enhance the performance of your WordPress.if you install such plugins then it will add some new and extra function to your websites. here I furnished some useful plugins that you will download for your WordPress blog.
For the SEO point of view, you have to create a contact form for your blog. This contact form makes it easy for your visitors to contact you and share their queries with you. You have a default plugin named WPForms in your WordPress, but I suggest going with the Ninja form or the Contact7 form for your blog.
Yoast SEO is another important plugin for your WordPress blog.it helps you to improve your on-page seo.it helps you to pull more visitors to your website through the search engine. and most importantly it helps you to write an SEO friendly article for your blog. It is a popular SEO plugin for WordPress that is used globally.
The next plugin is Antispam which is used to protect your site from spam comments given by your visitors on your blog. This plugin simply removes the spam comments on your blog.
If your post or article contains lots of images that will make your site running slow, this plugin solves this problem. It will optimize your images to load your website fast.
Social snap is a social sharing plugin that creates social sharing buttons on your pages. Due to this visitors can share your post on a social media platform like Facebook, youtube, Instagram, etc.
The speed of the site is another major factor to rank your site on the google search engine. If someone is on your site and it takes time to open, then he will go to other sites. In this case, you may lose your traffic on your site. Therefore wp rocket helps you to make make your website faster.
If you want to keep your blog safe or making your site secure from hackers then you have to go with a security plugin. Installing a security plugin is much more essential to keep your website safe. This plugin protects you from cyber threats.
Elementor is a page builder for designing your post or article and also helps you to customize any page. This plugin helps you to design your home page or landing page according to your requirement. Through drag and drop, you can create a beautiful design very comfortably.
Create your Static Pages
Before publishing your first post you have to create some static pages for your website. Without which google won't rank your website or index you in the search engine. Here I mentioned five static pages that should be there on your website.
1.About Me (Us)-
This page is nothing but a biodata of the author or the founder of the blog. Here you can tell about you, your mission, your vision briefly to your viewers why you are creating this blog.
2. Contact Me (Us)-
you can create this page with the help of the "Ninja form" plugin. the main purpose of this form is to get in touch with your viewers and you will also solve their queries too.
3.Disclaimer Page:
Every blogger wants to earn money from blogging.if you want so you have to give details on how you generate your revenue. Therefore this page is much more important that you can't ignore. if you are endorsing a product and monetize the affiliate link of that product, then you have to disclose all the relevant information through this disclaimer page.
4.Privacy Policy-
Through your website If you collect data from your viewers like their name, mail id, phone number, then you have to add a privacy policy page in your blog. This privacy policy explains to your viewers about the motive of your collecting the data.
5.Terms of Service:
If your blog is an e-Commerce website and if you associate with any kind of selling and service then it's good to draft a lawyer on your webpage to minimize liabilities and provide protection.
7. Write & publish your first article/post 
At last, finally, we reached where you express your think to the world.i mean it's the time to move towards for your first blog. For this, you have to go to your dashboard and then click on a "new post".first enter your title in the title bar and then start writing your post.
Elementor plugin helps you to create a perfect article for your blog.you can add any image, any chart in your blog.and also adjust the size of the image easily. here you can add your keywords, featured image, meta description of your post, and lot more. after completion, you can click on the "publish" button to publish your post to the world.
8.Promote your blog
How to Promote your blog

Making a well-designed blog by adding a theme or install the plugin and also publish a unique content does not end here. Now you have to promote your article so that more and more people come to your blog. For this, you will have to do a lot of work. You have to tell people about your blog. This work can be done through social media. You have to share the link of your website to your social media platform. Facebook and Instagram do this work for you.
 Tricks and tips to promote your blog
1.Tell your friends about your blog
2.Submit your blog to search engine
3.You can also submit your blog to bookmarking sites
4.Always be active and post your article regularly.
5.Keep in touch on social media
6.Always make Comment on other's blog
7.You can also promote through Guest blogging
8.Increase your mailing list
Conclusion
I think you guys must have liked my article how to start a WordPress Blog. If you have missed anything, then you can comment on me so that in my next article I can give you all your information in a good way. Stay tuned on my site, next time you will find something more interesting topic which will help you to boost your blog.
How to write an SEO friendly article step by step…………Coming Soon