How to increase website speed? 2021 secret revealed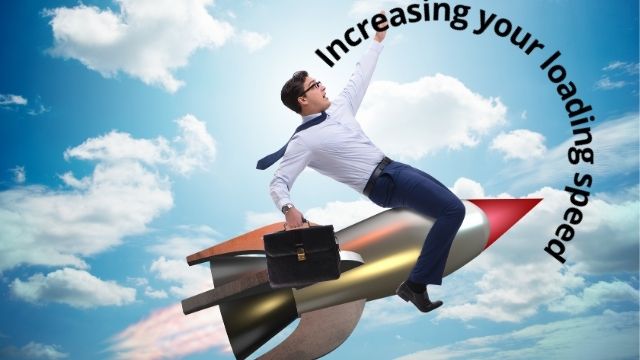 Hello bloggers, do you want to know How to increase website speed? you're in the right place. Often, We are inspired by someone and make a website and publish very good posts on it.
To make the website look beautiful, they use very good themes and plugins. And to increase user engagement, we also upload high-quality pic and videos.
And after 4 to 5 months when you send a request for approval of google AdSense, your approval is canceled.
Why does this happen? The reason is nothing but your website speed. let's find out How to increase website speed? in WordPress
here I'm going to explain to you my 11(eleven) mind-blowing techniques that helps you to speed up your site like a rocket. If you want to know this trick then read this thoroughly so that you can also able to do it with your site. BOOM.
How to increase website speed? in 2021
Why do we need to speed up our website?
As you know if you want to rank your site on Google then it is mandatory for you to work on your site speed.
If we want to know what are the major ranking factor of Google then site speed is one of them.
Website speed or page speed also a ranking factor for mobile searches also.
And even though speed improvements will affect the performance of websites. However, faster page load times lead to a better user experience.
If your site speed time increases then it drastically lower your bounce rate.
As you know if your site has more bounce rate then you will never ever rank on Google search engine.
Therefore you have to find out the reasons that badly affect the speed of your website.
Read also
# How to start a WordPress blog: Best blogging tips in 2021
#Backlinks: 6 ultimate way to get free backlinks
Here I can tell you, there are numerous reasons why your website might load slowly. But the most common reasons that I've seen are due to
Slow and poor internet connectivity
Bad and poor hosting
Caching
Page size
Your WordPress theme
Plugins that you used in your site
Server configuration
Image, videos, and file sizes, and more.
How to increase website speed in WordPress?
How to check the websites' speed?
Now the question is coming into our mind that how to check the speed of our website.
There are many such tools on the internet, which tell you the speed of your website and its loading time for free.
And it is absolutely free. With these online tools, you will get to know what is the speed of your blog and how much time it takes to load.
This is a very simple procedure to test your website speed.
You have to enter the URL of that site in your browser, as soon as you enter, a new window will appear in front of you.
Here you have to paste the URL of your site and press the enter button. BOOM. You're done. In just a few seconds it will give you all the information about your sites.
Please note down or visit these three popular page-speed tools. Such as Page Speed Insights, Pingdom, and GTMetrix. These are the best tool to test your website speed.
I'm going to explain to you some of my mind-blowing techniques that helps you to speed up your site like a rocket. If you want to know this trick then read this thoroughly so that you can also able to do it with your site.
Also, Read
# Lose weight by walking: the ultimate way to lose weight
#Get 1000 free backlinks: Secret Revealed
# What is GIF: what is its full form
How to increase website loading speed?
Here I am going to give you some great magic tips that should help you get better performance from your site.
1.Purchase a good and premium hosting for your website.
This is the first trick that will solve your query about How to increase website speed? let's see how?
Lack of server response time is the main reason for the low loading speed of any Webpages or websites.
due to this lack of server response time, our Webpages take a longer time to load. Hence the suitable server response time should be 200 ms or less.
When we start our first blog at that time we only consider how to get our domain and hosting cheap or free of cost.
if you chose or go with this type of free hosting or cheap hosting company then you will definitely face this problem.
In order to avoid such issues, you should go with some premium type of hosting for your websites.
Though it will cost you a lot it serves better than those free or cheap hosting.
the server response time of all premium companies is good, but make sure the particular web hosting should have
unlimited bandwidth
it has unlimited disk space or storage
100% Uptime
If you are a beginner then go with "Hostinger" which provides you a good hosting at an affordable price. otherwise, there are lots of companies that offer good hosting for your website.
2.You should reduce Your site's HTTP requests.
This is another but most important factor that will solve your problem on How to increase website speed?
Before going to this step let's find out what is HTTP and what is the full form of HTTP? and what is the main function of HTTP?
HTTP stands for "hypertext transfer protocol".it is a request-response application that is based on the TCP/IP protocols.
The main function of HTTP is to transmit web-pages from a web server to browsers.
Your Webpage files, images, videos are normally stores on the server.
Whenever a browser tries to access your website on the Internet at that time HTTP does its work.
The files that are stored in the server are used to deliver to the users with the help of HTTP. If you have more HTTP requests then the more time the website will take to load.
Therefore, To speed up the loading speed of the website, try to minimize your  HTTP Request in the website.
For this, try to use minimum photos and videos on the website and use a few java scripts. if you will do this then it will require fewer HTTP requests to access your website.
This will help your website to load fast.
3.Minify and Combine your files
file Minify and combine is another approach to resolve your doubts on How to increase website speed?
We use themes to make our websites look beautiful and give a nice premium design. These themes are made up of Javascript, CSS, and HTML.
The more your themes use these scripts, the slower your sites will be. That is why we have to minify and combine java, CSS, and HTML scripts to increase site speed.
If you have knowledge of coding then you can easily combine and minify these files by going to the theme editor.
But what for those who don't know to code? don't worry. I have a good idea that you can also combine and minify your files without coding.
For this, you will have to use a WordPress plugin that will do everything easily.
The name of this plugin is WP Rocket. You can install it for free and to get the best results, you have to take its premium version.
After installing WP Rocket Plugin, you can easily combine and minify JAVA, CSS, and HTML files easily.
4.Use CDN (Content Delivery Network)
To increase the website speed use CDN. It will be in your mind that what is CDN? What is the full form of CDN? And how does our website increase speed by using CDN?
Let's know about CDN in brief.
CDN stands for "Content Delivery Network". This is a network that works with all the servers together.
Suppose my web server is in Banglore, if someone wants to access my website from India then he can accesses my site very fast because my website Server is in India.
Suppose If someone wants to access my site from Los Vegas, then will my site load at that speed? never. It will take a little longer to load.
This is where CDN makes it easy. CDN works by keeping all the servers in the world in a group, so anyone can access any website anywhere in the world.
So if your site tries to have global traffic then you will be definitely signing up for a CDN service. You can enable this option in WP Rocket.
5.Optimize Database
Our website database also causes our site to load slow. that means the speed of any website depends upon the database of that website.
If we uninstall any theme or plugins, then its data is not completely deleted from the server. Some data are still stored on the server.
And even when we update our posts, the data of old posts also remain stored in the server. This data gradually reduces the speed of our website.
That is why we have to optimize our data regularly so that it does not put any negative effect on the loading time of our site.
in order to optimize our website database, we have some plugins that help to optimize the database regularly.
for this, we can use WP sweep or Wp optimize plugins. you can download this without wasting a single penny from your pocket.
Note- when you use this plugin make sure to take a backup of your website. if there is any problem occurs then you can easily restore your data easily.
6.Keep Cache data Enable
Cache data is another major factor that makes our website load faster.
Do you know what is cache data? And it's so important for our website. Let's have a look.
When we open a website or an application in our system (mobile, computer), the information of those websites is stored in our system.
This information that is stored in our computer or mobile is called cache data.
When we visit that site again, then those sites open very easily and quickly because the cache data of that site is already stored in our system.
Due to this, our website loads quickly, and the user experience of our site increases. That is why we always have to keep our cache data enabled.
However, there are some plugins that help us to enable the cache data on our website.
Such plugins are- WP Super Cache or W3 TOTAL Cache Plugin.
7.Use Optimized Images
The question that is coming to your mind is what are these optimized images? How do we optimize the images according to the website? and How to increase website speed? by optimizing Images.
Let's also know this.
Whenever we write a post or article on our website, most bloggers make full use of images.
using images increases the quality of the post and it is good to read the post. If there are images, then things are easy to understand.
And Google also wants images to be used in every post. But due to these images, our website gets slow and Takes longer to load.
because due to the use of images increases the size of the Webpage.
Therefore we have to use optimized images means high in quality but less in size.
However, before uploading an image you have to resize and compress the images without losing their quality.
For compressing images you can use some free plugins like WP Smush Plugin that automatically compress your images.
You can manually resize or compress your images with the help of Canva and Photoshop tools that are absolutely free to use.
8.Use optimized videos
Like images, videos should also be optimized and uploaded to the website.
If we directly upload a video to the site, it reduces your storage space. Due to this, our website gets slowed down.
That is why when you want to upload a video then always avoid uploading it directly to your server.
Just insert your videos on the website with the help of YouTube.
When users want to watch your videos, then they can directly access YouTube through the link videos.
in this way, you can smartly use any videos with the help of a third party like Youtube.
This Technic helps you to maintain your website speed and increases the user experiences.
9.Always use a lightweight and premium theme
if you are still struggling with How to increase website speed? then just do one thing. use a premium and lightweight theme for your site.
Another reason for the lack of speed of our websites is our wrong theme selection.
Therefore, while choosing a theme, keep in mind that your theme should be lightweight and fast.
If we do this kind of theme then it will definitely improve the speed of our website.
In this, I am speaking from personal experience that wrong theme selection can increase the loading time of your site.
If we choose a good and premium theme then it maintains the speed of our site. Due to the premium theme, we do not have to install separate plugins.
                               "The fewer plugins we use, the faster our sites will be."                                  
Here, I talk about some good and lightweight themes, which I myself use on my website.
Generatepress
Astra pro
Schema Lite
10.Avoid using unnecessary plugins
Plugins play an important role to reduce our website speed.
The more plugins you install, the slower your website will be.
More plugins mean more script hence, increased upload time. That's why use as few plugins as possible.
11.Avoid using unnecessary widgets and pups.
All you must have seen when a new blogger designs his website then he uses unwanted widgets to make the site look beautiful.
                                                                        Why not?
These widgets give our website a premium look and the website looks good.
That's why we use  Facebook pages, calendars, and more widgets in the sidebar and in the footer menu.
But using unnecessary widgets and Pupops also has a lot of demerits. after using all these things then they will search for How to increase website speed? so funny!!
The more widgets you use, the more scripts you are putting on your Webpage, which reduces the website loading speed.
therefore, just avoid using useless widgets on your website that makes the site slow.
Conclusion-
I have put a lot so that I can provide you a quality and informative content about How to increase website speed? If you like my article and if this helps you in any manner, then I cannot get happier than this.
Hope you will spend a good quality time when you read my post well. If you like it then definitely share in your friend circle or in your social media platform.
Have a nice day.
If you want to know more about Queryexpress.com, then feel free to visit my privacy policy, terms &conditions, and Disclaimer page.